Detailed Product Description
cnc router 900*1500*150mm
square (linear) guideway, ball screw driving mode
3KW air-cooling spindle, DSP controlling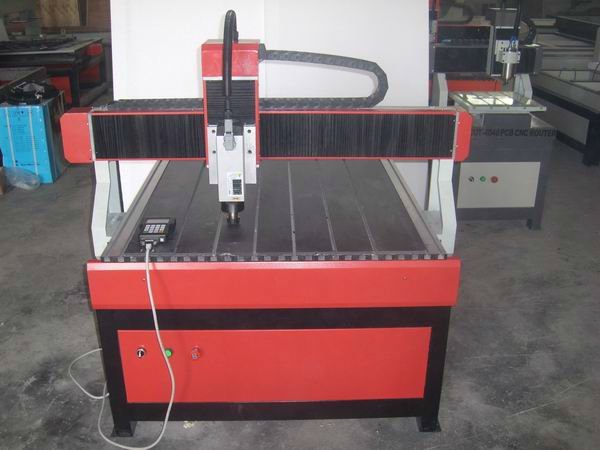 cnc router 900*1500*150mm JCUT-90150B

Features:
1) Machine body: whole cast iron
2) Guideway: linear(square) guideway
3) Driving mode: ball screw
4) Work dimensions: 900mm x 1500mm x 150mm
5) Body dimensions: 1400mm x 2000mm x 1500mm
6) Z-axis working area: 150mm
7) Max. Feeding height: 150mm
8) Cut thickness of material: ≤40mm
9) Max. Speed: 6,000mm/min
10) Working speed: 0 - 4,000mm/min
11) Mechanical precision: 0.01mm
12) Software: type 3 software, Artcut software, Artcam software
13) Max. Power consumption: 1.8kW
14) Power source: AC220/50Hz (or 110v/60HZ)
15) Driver type: stepper motor
16) Memory: without or (DSP)
17) Spindle: 3KW air-cooling/ water-cooling
18) Spindle speed: 0 - 24000rpm
19) Blade diameter: 3.175mm, 4mm, 6mm ( or 8mm,10mm,12mm, 12.7mm )
20) Control system: DSP (USB interface)
21) Command: G code, u00, mmg, plt
22) Running circumstance temperature: 0 - 45 ° C
23) Relative humidity: 30% - 75%
24) Pack dimensions: 1700 x 2300 x 1600mm
25) Net weight: 800kg
26) Gross weight: 900kg
Applications:
Can be used on advertisement engraving, advertisement cutting, stone processing cutting, Cu and Al molding cutting, mold manufacturing cutting, wood processing cutting, wood door manufacturing cutting, craft manufacturing cutting, light box cutting, building mold cutting, indoor decoration cutting, wave board processing cutting, light equipment mold processing cutting, sign and mark manufacturing cutting, Acryl board processing cutting, stamp cutting.
Key point:
Please kindly tell us your engraving or cutting materials, and materials' size.
Then we can quickly check and recommend to you the right machine with right working area.
We send below parts for free:
Software in CD, Controlling Card (PCI card), Water Tank, Water Pump, Engraving Tools, Data Wire, Power Line, Brush, Spanner and Clamp.
The optional accessories:
1. Rotary axis
----For engraving on cylindrical shape materials. Please kindly tell us your cylindrical shape materials' length and diameter. Then we can add right rotary axis to the machine.
2. Water cycling system (water sink on the working table)
----For engraving on stone or metal materials. It is used to down the spindle's high temperature.
3. Vacuum table (contain vacuum pump and vacuum pipes)
----For fixing the materials on the working table, especially for bigger working table.
After added vacuum table, the voltage will need to be 3 phase/380V.
4. Dust collector (contain dust collector pump and dust collector pipes)
----For sucking away the dusts, such as wood dusks and so on.
5. DSP controlling system (off-computer controlling)
----USB interface, 128MB flash memory
Freight:
We can send this machine to your port or door address by sea or by air. Do as you need.
If sending to your port, please tell us your port.
If sending to your door address, please tell us your address, and better with post code.
Warranty:
One year for machine
We supply online service 24 hours a day MSN, Skype, Yahoo, Gmail and so on.
You can also contact us by email, and we will reply in 24 hours, or by phone if urgently.